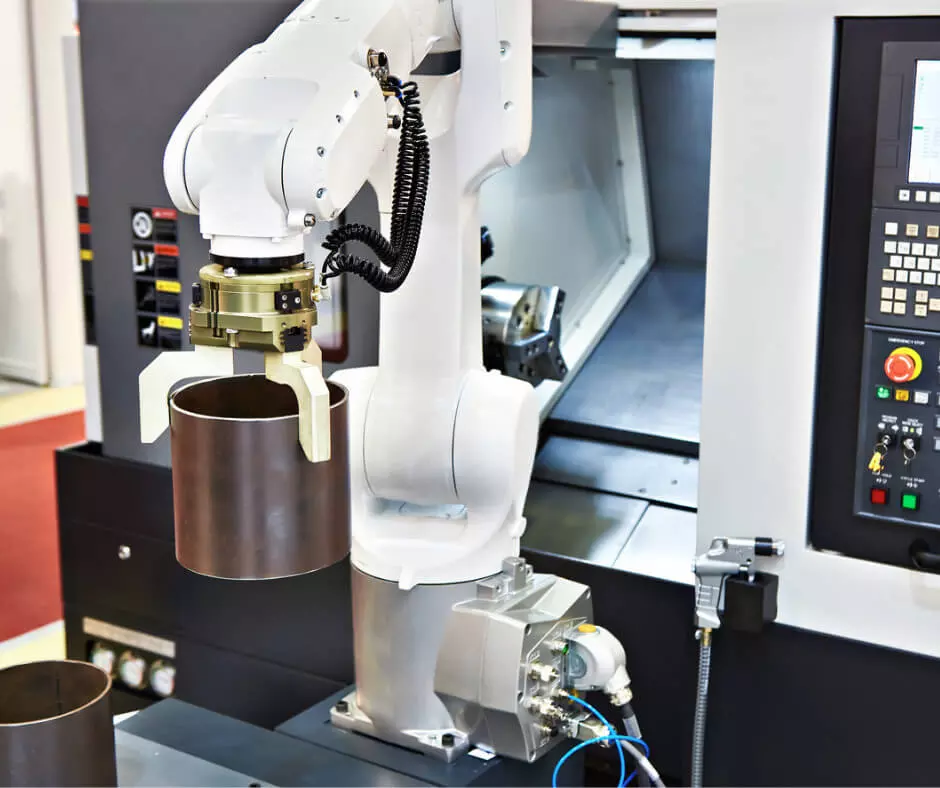 ROBOTIC CELLS FOR MANIPULATION: ADVANTAGES AND APPLICATIONS
When an industrial robot is programmed for a specific use and is placed in a robotic cell, it performs continuous work without interruptions, without the aid of lighting and, most importantly, without the supervision of any operator. These three details are enough material to understand right away the great advantage of industrial robotics in many fields.
Thanks to the expertise of the system integrator it is possible to optimize all those processes that do not require a particular added value from man and that contrariwise, find their ideal work in repetitive actions, which still requires a high precision and quality of the finished products.
The advantages of a manipulating robot in a company
A robot intended for the manipulation of objects of variable shape and size, even with complex geometry, spherical or with uneven or multiform surface allows very high levels of flexibility in production.
A robotic cell for the manipulation of objects can indeed "take care", in place of the operator, of activities such as selection and/or division of objects by shapes, color, size or weight (sorting), the removal of burrs and cutting residues (deburring), painting of components and objects of various sizes, welding and polishing.
The advantage of an industrial robot intended for manipulation is immediately evident, that is the great possibility of applications. More employment opportunities correspond to greater space for resource optimization.
Rapid payback, more safety, more productivity
The advantages obtained from the use of a robotic cell, of any kind, in a company's production cycle are many and each and every one of them plays an essential role in user success. First of all, for instance, the quick return on the investment.
The robot's capacity to work continuously for many long shifts, without an operator's supervision is in itself an extremely important factor of savings on business costs and, in addition to this, there are now very favorable tax conditions for the purchase of automations and robotic cells.
Obviously, the increased safety deriving from the use of robotic cells in any area should not be overlooked, indeed it must be strongly highlighted, especially where working conditions are harsh and expose workers to important environmental risks.
Using robotic cells in carrying out high-risk activities to assign operators to less dangerous and more intellectually stimulating activities implies a double advantage for companies. With a single investment they will bring great benefits in terms of safety and a great increase in productivity and in the satisfaction of their employees.
FIND OUT THE PRICE OF A ROBOTIC CELL FOR YOUR COMPANY WITH OUR ONLINE CONFIGURATOR
Beyond robotic manipulation
the continuous evolution of devices that can be integrated with robotic cells for manipulation further elevates the benefits, expanding the range of sectors of use and making them more and more accurate for specific processes.
In this regard vision systems play a leading role, whether they are two or three dimensional. These devices make it possible to drastically reduce the design and testing work for complicated automatic feeders, traditionally requested in the absence of robots capable of autonomously identify the items to be handled.
The last frontier in terms of evolution lies in the integration of artificial intelligence in the field of robotic programming. This particular aspect opens up almost endless fronts within which a robotic cell for manipulation can be used, which will probably be able to ignore the purely industrial environment and appear with increasing frequency even in domestic and logistic areas.
Industrial robotics and sectors of use
In light of the above, becomes easy to understand how robotic manipulation solutions can be used by companies of multiple nature and operating in very different industrial segments.
Sectors that make extensive use of robotic solutions are the pharmaceutical, automotive, but also food, mechanical processing in the most varied derivations, quality control, palletizing, servicing of machine tools and many more.
In the following list are reported these and other operators from different industrial fields which gain great benefits from the integration of manipulating robots and robotic cells in its and respective production flows:
Fashion (accessories of various types of material for leather goods and clothing)
Automotive (car components)
Aeronautics e aerospace
Mechanical
Medical e pharmaceutical
Alimentary
Transport
Energy
Costructions
Fondry and steel industry
Pallettizzation and logistics
Packaging
Leather goods
Jewelery, gold and costume jewelery
E-waste
Taps
Furniture and fixtures
Plastic sector
Engineering
Thermo- hydraulic
The key words, always linked to the benefits of automation and more than ever expendable in describing a robotic cell for manipulation are therefore flexibility, ease of use, reversibility, return on investment and almost unlimited autonomy.