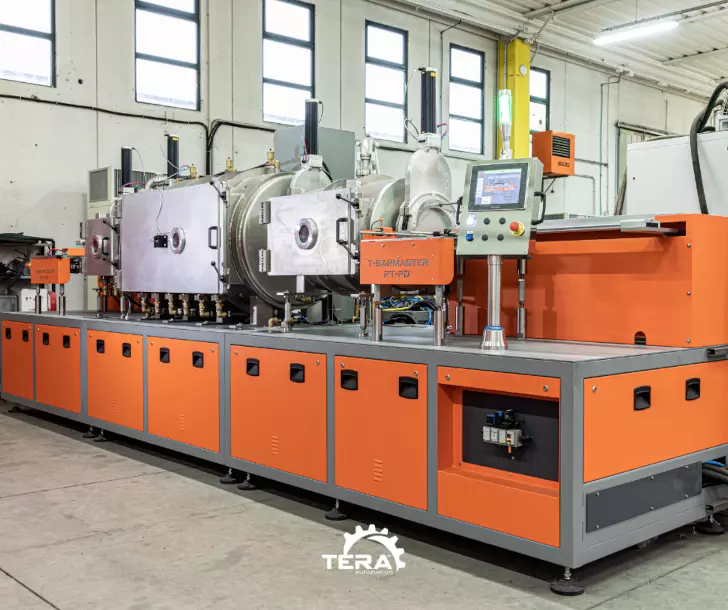 T-Barmaster Pd/Pt, the innovation for the continuous production of gold, silver and PGM bars
As we know, 2035 will mark the beginning of the green electric vehicle revolution and will thus be a turning point for the metal market.
Indeed, EU energy ministers and the California Air Resources Board (CARB) approved the regulation requiring a stop to endothermic petrol or diesel engines powered by fossil fuels from 2035.
While the car world will experience an epochal transition to a more environmentally sustainable model, electric mobility is expected to have a dramatic impact on PGMs (Platinum Group Metals).
At present, the automotive industry is, in fact, the driving force behind the demand for platinum and palladium. Until now, about 70% of platinum and palladium resources have been allocated to the production of catalytic converters, which are absent in battery electric vehicles.
So, what fate does the future hold for PGMs? What role will be played by casting processes? What opportunities will induction furnaces for metals offer?
What fate does the future hold for PGMs?
Investment demand for PGMs is expected to increase significantly in the years to come. Demand for platinum bars and coins is projected to rise by 49%, recording the highest in the last three years (World Platinum Investment Council 2022).
We could therefore say that platinum and palladium are about to play the traditional role of the investment metals par excellence, gold and silver.
Investing in platinum and palladium
To date, there is a rather limited market which mainly offers PGM coins and bars made through the minting process.
However, if we are looking for the best solution, the one that requires a less demanding and cheaper manufacturing process, and characterized by reduced time to market, we must opt not for minting, but for the casting process.
Main problems in the production of PGM cast bars
Given the complexity of the metals in question, we started from a thorough analysis of the main issues involved in the production of PGM cast bars with the aim of designing a unique, high-performance machine.
Here are the main critical points:
Both platinum and palladium melt at very high temperatures. The melting point of platinum is 1768°C (3215°F), that of palladium is 1555°C (2831°F).
Platinum and palladium tend to retain gas during solidification.
Platinum and palladium sponge casting process is particularly complicated.
Consumables used in the melting process of conventional furnaces suffer excessive wear and tear.
Existing technologies for casting and processing PGMs
Existing technologies do not make it possible to overcome all these major problems.
The hammer forging process and CNC machining, for instance, ensure the production of high-quality ingots; nonetheless, they entail rather laborious and dangerous mechanisms involving the accumulation and subsequent reworking of processing waste (chips).
The tilting furnace provides a simpler solution which enables PGM sponge melting but does not guarantee ingots of high aesthetic quality and free of gaseous inclusions.
The vacuum furnace, in turn, ensures maximum safety for the operator and the total absence of gaseous inclusions. However, this is a costly process that only allows the processing of small batches.
In addition, all three technologies just examined require a high degree of manual labour and batch processing cycles.
The ideal solution for the production of cast bars
The tunnel furnace is a safe, fully automated machine designed for the consistent and continuous production of high-quality ingots, which also ensures perfect repeatability and maximum process flexibility.
Easily set to switch from one format to another without ever stopping production, it can produce gold or silver bars, from 100 grams as well as kilo.
In contrast to traditional open furnaces, the tunnel furnace is also eco-friendly, since it ensures low use of energy and, above all, reduced emissions of fumes.
The highest performing technology for the continuous production of gold, silver and PGM bars
If we combine the benefits of our T-Barmaster induction furnace with the specific advantages of the vacuum tunnel furnace, we obtain an extremely complex machine in terms of design and construction, but which is capable of reaching a temperature of as much as 2100°C (3812°F).
By virtue of this, it can be used to cats any starting metal shape (crystals, powder, grains, pieces) while safeguarding the quality of final ingots, thus maximizing production.
A further positive aspect concerns the excellent cost-durability ratio of consumables as the total absence of oxygen inside the chambers significantly increases the life of ingot molds.
How does T-Barmaster Pt/pd work?
T-Barmaster Pt/Pd was born with the ambition and claim to generate a perpetual and perfect vacuum condition. Just as astronauts transit from the international station to space through an airlock, ingot molds enter and leave the melting chamber of our tunnel furnace via two airlocks which, in fact, ensure the perennial vacuum condition mentioned above.
Like any other machine designed and manufactured by Tera Automation, this new furnace, which has already been granted a patent, can operate as a stand-alone machine or be easily integrated into a fully automated solution, the T-Line.
As far as gold and silver casting is concerned, we succeeded in obtaining high-quality ingots from the very beginning.
On the other hand, when trying to melt PGMs, we were faced with a number of problems related to the material of ingot molds. Consequently, we tested different materials to analyse their reactions and identified the most suitable one to be used for a special internal coating. As a result of this research, a new ingot mold was born, which is currently patent-pending.
Ready for the new future of PGMs
Tera Automation firmly believes in this alternative and extremely promising future for PGMs and is committed to offering an efficient and profitable solution to successfully invest in such metals: the T-Barmaster Pt/Pd vacuum tunnel furnace for the continuous production of gold, silver and PGM bars.