T-LINE™ The only fully automated production line in the world
for the continuous production of gold and silver ingots
T-Line™ is the first module production line in the world that can manufacture precious metal bars in a fully automated way. It includes all specific units necessary to carry out each production step and shows a high degree of flexibility and customization.
Each operation is carried out in a sequence one after the other, as the product moves along the production flow; the production line modules can be combined and modified according to specific process requirements.
It is a turnkey large-volume full production line
Fast ingot production
Completely safe manufacturing
Manual labor limited to programming and supervision

Fully customizable with the option of adding modules at a later time
Equipped with robotic solutions to optimize processes in line with Industry 4.0
End product quality standards are consistent over time
Limited production costs

Machine to machine interconnection and machine connection to the company's internal management software, with the option of collecting and selecting data which can be consulted in real time
Production process optimization within the company and scheduled maintenance services
OUR WHOLE STORY IN ONE BIG PROJECT
Erasmus of Rotterdam once said "the best ideas do not come from reason, but from a lucid visionary folly". When we first thought of the T-Line, we didn't know if this project would ever see the light of day: it entailed fully automatizing the production process of gold and silver bars for the first time ever. To many it might have seemed crazy; for us at Tera it was a new challenge. But the story actually begins much earlier on.
Tera Automation was founded in 2010, when, as we first stepped into the world of industrial automation in the precious metals industry, we designed an induction tunnel furnace for the continuous production of ingots, called the T-Barmaster. Our goal was to obtain perfect ingots with mirror finishing surface. Our team took up the challenge successfully, obtaining not only excellent results, but also turning the company into a point of reference for refineries all over the world.
Our company is located near Arezzo, one of the most important goldsmith districts in Italy, so we were aware that in the precious metal industry - so deeply rooted in our territory industrial traditions - nobody was even contemplating applying industrial automation systems to produce metal grains, anodes and ingots.
How many companies would have been able to afford a fully-fledged installation, such as the T-Line? Very few, only the biggest ones. And their expectations were also going to be high, thereby pushing us to obtain the highest quality in every step of each automated process: that meant providing exemplary grains, as well as perfectly smooth and shiny ingots without any flaws.
However, although the T-Line was initially targeted to the industry top players, we felt that each company in this field, as well as the many medium-sized refineries scattered on our territory, needed to set the same high-quality standards for themselves. We had created a great technology, a great innovation that could solve many problems and optimize resources in many a company. Our big project needed to become accessible and be targeted to many different types of company.
That's why each element of the T-Line became a product which could be installed as stand-alone or within a larger automated system. We reached for the stars and made them accessible to everyone, by making sure that each module could be fitted into any production line and integrated to any existing machine, even at a later time.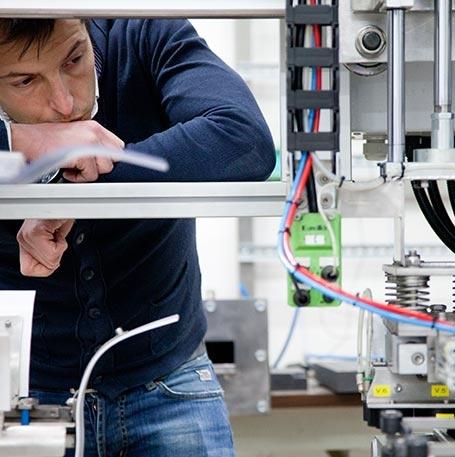 of automation and industrial robotics
Automation is an essential resource to increase production efficiency and enhance the value of human work. The industrial automation of the T-Line allows us to shift manual labor - once necessary to handle machinery - towards more specialized production activities to which manual labor can bring its own added value.
It took almost two years of hard work to install and implement the first T-Line; during these years, every department of Tera Automation was involved in this project that now belongs to every company worker. This fully automated process actually entails a very important human element: the desire of engineers and technicians to fully express the creativity and great potentials of industrial automation, when applied to a production process.
What seemed crazy in the beginning
Our hearts were pounding, as we switched on our first T-Line; we saw an extremely innovative idea became reality right before our eyes and we realized that it was actually working, because every Tera Automation worker had put their back into it, making sure that this product could obtain very successful end results.
We had managed to express the full potential of industrial automation, applied here to ingot production, guaranteeing a consistent production over time, high quality standards, safe working conditions and limited costs. The energy had been converted into a controlled movement over the course of more than twelve production steps: we had managed to fully express the essence of automation.
TERA AUTOMATION S.R.L.
Via Romena, 7/9 - Loc. Porrena
52014 Poppi (AR) - Italy
Phone: +39 0575536625
Fax: +39 0575539851
E-mail: tera@tera-automation.com
TERA WORLDWIDE
USA: New York
INDIA: Mumbai
TURKEY: Istanbul
THAILAND: Bangkok
SPAIN: Barcelona