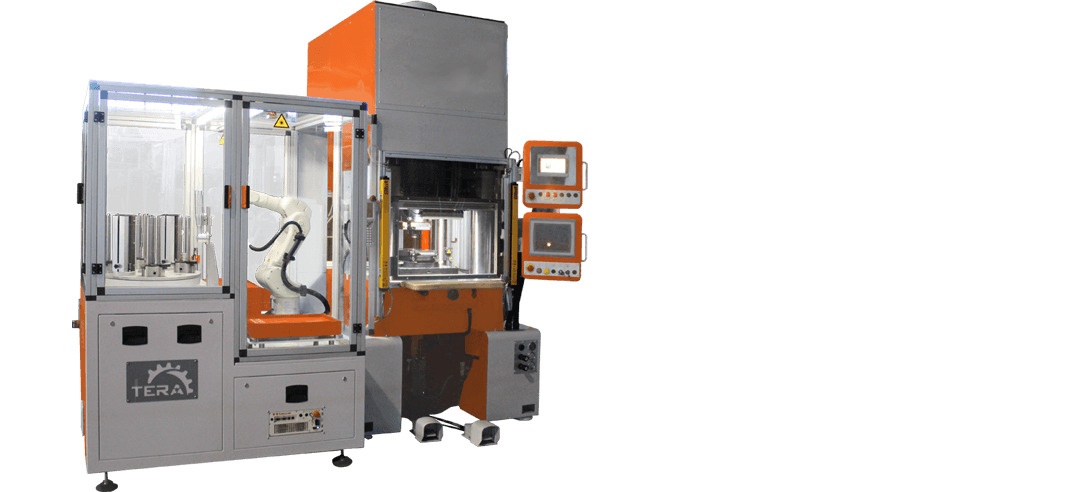 AUTOMATED TENDING SYSTEM
FOR HYDRAULIC PRESSES TO MINT COINS AND STAMP INGOTS
MACHINE INTEGRATION FOR THE AUTOMATION OF MINTING PRESSES
T-Robomint™ is an automation system especially designed for those refineries, private and government mints producing a considerable amount of minting coins, medals and ingots every year. These companies usually manufacture products with different designs by employing several presses; given their traditional manufacturing method, they rarely manage to achieve a continuous production flow. Thanks to T-Robomint™, presses - whether they already exist within the company or they are provided by Tera Automation - achieve an unprecedented level of autonomous production. That's because operators will only need to monitor the performance of one or more presses operating at the same time.
Minting presses were originally designed to be handled manually, but T-Robomint™, by means of a Cartesian robot system, made them autonomous. Automating the stamping division means: more work shifts, a continuous production, no constant need for operators, and a consistent yield over time.
T-Robomint™ allows the production of different designs; you will only need to change the design of the press stamp and, if needed, the vacuum gripper necessary to pick blank medals up. As a matter of fact, the suction area is calibrated according to diameter and can be adjusted using a regulator. The same process applies for ingot stamping.
CRITICAL ISSUES AND DISADVANTAGES OF THE TRADITIONAL SYSTEM
Each processing is manual and requires a long time
Slow and risky process
Presses are only operational during work shifts
The end product quality is not always consistent
High costs due to specialized staff
THE ADVANTAGES OF AN AUTOMATED SOLUTION
Operators only have to take care of automation settings
Fast and safe operations
Continuous processing without any waste of time
Quality is consistent over time
Staff costs are optimized
WHAT IS THE PRODUCTION LEVEL OF YOUR PRESSES?
T-Robomint™ Standard

This automation can tend to stamping presses, which could be the client's existing ones or new ones provided by Tera Automation
THE T-ROBOMINT™ AUTOMATION WORK?
The T-Robomint™ automation includes:
a loader containing the pieces that need to be minted/stamped;
a Cartesian manipulator with double gripping system;
a working station for the zero adjustment of blanks;
a tray to collect minted/stamped pieces.
The loader has an overall capacity which varies according to the design of coins/ingots. Once rough blanks are finished, the loader can be easily removed and replaced with a new one, so as to avoid production delays.
The Cartesian manipulator fitted to the T-Robomint™ is provided with two gripping points thus allowing two simultaneous gripping systems: one gripping system moves the blanks from the loader to the press work surface, while the other one grasps the finished product and releases it in the final collection area.
The gripping system with BEC suction cups, specifically designed to produce Proof coins, is also available.
Once it has been minted/stamped, the finished product is brought to and released in the collection tray. These trays are not attached to each other, so that the supervisor can collect the trays that are full without needing to interrupt production.
AUTOMATION FOR MINTING PRESSES
Each Tera Automation machine can be conceived as part of a modular line which can be combined according to the company's needs and facility space. Each machine can be fitted to existing machines and a full line can be developed over time.
T-Robomint™ is an automation which can be integrated to other machines, according to each operator's specific needs.
YOU MAY ALSO BE INTERESTED IN
FULL, IMMEDIATE SUPPORT WITHOUT BORDERS
A support service can be deemed efficient, only if it does not require halting production for long periods of time, wherever the customers might be in the world.
Our support team can be reached via direct call, remotely or with maintenance contracts. That means saving time and money.
Constant availability of spare parts
Our support service is particularly efficient, because we provide spare parts which are manufactured even with our own CNC machine, our warehouse is fully stocked with the most important spare parts and we guarantee a fast delivery.
Along with the T-Robomint™ machine, we provide an original Tera Automation spare parts package, so as to ensure that the machine always operates at full potential. Keeping a stock of the main spare parts is absolutely essential to guarantee production continuity and carry out simple maintenance tasks in an effective and timely manner. Our support team will create the spare parts package most suitable for your needs.
Consumables - Suction cups
TERA AUTOMATION S.R.L.
Via Romena, 7/9 - Loc. Porrena
52014 Poppi (AR) - Italy
Phone: +39 0575536625
Fax: +39 0575539851
E-mail: tera@tera-automation.com
TERA WORLDWIDE
USA: New York
INDIA: Mumbai
TURKEY: Istanbul
THAILAND: Bangkok
SPAIN: Barcelona