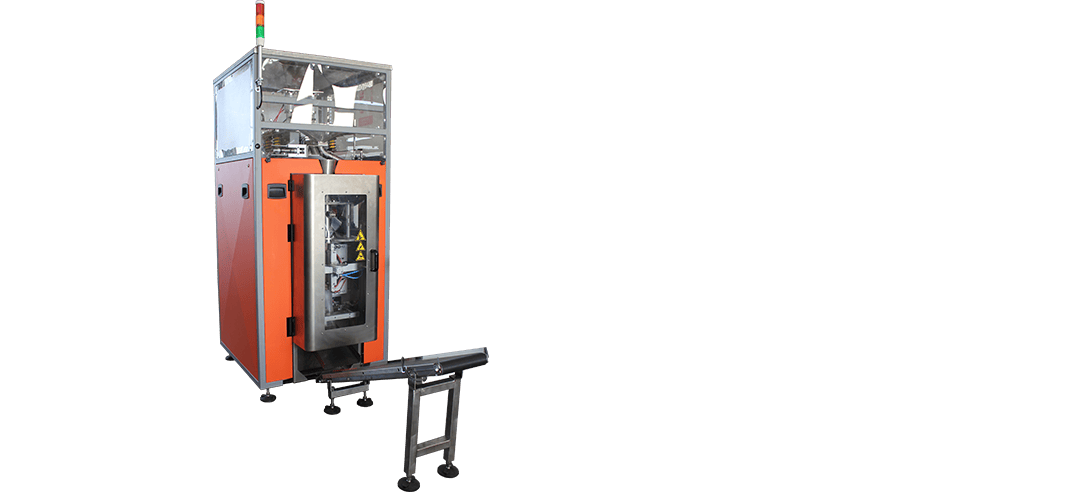 AUTOMATIC PACKAGING MACHINEFOR THE CONTINUOUS PRODUCTION OF METAL GRAIN PACKS
AUTOMATIC GRAIN DOSING AND PACKAGING MACHINE
T-Fill&Seal™ is an automated machine designed to combine dosing and packaging of precious and non precious metal grains.
We wanted to create a machine that could fully optimize the delicate task of grain dosing, by combining two tools into one: an integrated precision load cell and a vertical pillow packaging machine. Thanks to a single machine, a very laborious task with high risks of human error has become quick and smooth.
As a matter of fact, thanks to an integrated emptying system, T-Fill&Seal™ is able to avoid metal loss and potential contaminations while switching alloys, significantly optimizing costs.
CRITICAL ISSUES AND DISADVANTAGES OF THE TRADITIONAL SYSTEM
Two different work stations for dosing and packaging
Manual operations require time
Labeling is an additional task which operators have to carry out
Dosing and sealing are subject to human error
No record of processing data
High risk of material loss or cross-contaminations between alloys
THE ADVANTAGES OF AN AUTOMATED DOSING-PACKAGING MACHINE
Two-in-one dosing and packaging machine with space optimization
Fast, automated and continuous dosing and packaging operations
Automated serialization and printing of logo
Dosing and sealing operations are easily controlled with PLC-HMI
Manufacturing data storage
No material loss or cross-contamination
ARE YOU LOOKING FOR A CONTINUOUS WEIGHING-PACKAGING MACHINE?
T-Fill&Seal™

Productivity from 50-60 pieces per hour to 100-120 pieces per hour

THE MACHINE IN A NUTSHELL:

Load cell with ± 1g accuracy
Vertical packaging machine for horizontal sealing
Pillow packaging
PLC-HMI interface with full-touch 7.5 inch display to control weighing and sealing operations
Dosing of precious and non precious metal grains (gold, silver, brass, copper and other alloys)
No contamination risk when switching metal type
Compatible with the company's ERP system
Automated and continuous dosing and packaging
It can be equipped with integrated printers for automated serialization and printing of logo
Manufacturing data storage
THE T-FILL&SEAL™DOSING AND PACKAGING MACHINE WORK?
The T-Fill&Seal™ machine carries out the following tasks:
it doses the exact grain quantity, as set on the panel, coming from the loading hopper;
it transfers such quantity to the vertical packaging machine for packing;
it prints dynamic data on the label and then applies it on the bag (optional);
Metal grains can be loaded manually or by bucket conveyor belt.
T-Fill&Seal™ is designed to quickly switch between alloy types, without any risk of contamination: the machine is indeed fitted with a "cleaning" system which empties the content left in the hopper into one or more bags (which are not going to be labeled or identified).
AUTOMATION FOR PERFECTLY DOSED AND PACKAGED GRAINS
Each Tera Automation machine can be conceived as part of a modular line which can be combined according to the company's needs and facility space. Each machine can be fitted to existing machines and a full line can be developed over time.
T-Fill&Seal™ was designed with the purpose of dosing and packaging grains made of metal or other materials with known weight in a very precise way, and can be combined with other machines, according to each operator's specific needs.
YOU MAY ALSO BE INTERESTED IN
Internal printer to print on bags
Electronic printer (integrated in the machine) for thermal-transfer printing directly on the packaging material.
FULL, IMMEDIATE SUPPORT WITHOUT BORDERS
A support service can be deemed efficient, only if it does not require halting production for long periods of time, wherever the customers might be in the world.
Our support team can be reached via direct call, remotely or with maintenance contracts. That means saving time and money.
Constant availability of spare parts
One thing makes our support service really efficient: we provide spare parts which are produced even with our own CNC machine, we have a warehouse fully stocked with the most important spare parts and we guarantee a fast delivery.
Along with the T-Fill&Seal™ packaging machine, we provide an original Tera Automation spare parts package, so as to ensure that the machine always operates at full potential. Keeping a stock of the main spare parts is absolutely essential to guarantee production continuity and carry out simple maintenance tasks in an effective and timely manner. Our support team will create the spare parts package most suitable for your needs.
Consumables – Bags and Labels
TERA AUTOMATION S.R.L.
Via Romena, 7/9 - Loc. Porrena
52014 Poppi (AR) - Italy
Phone: +39 0575536625
Fax: +39 0575539851
E-mail: tera@tera-automation.com
TERA WORLDWIDE
USA: New York
INDIA: Mumbai
TURKEY: Istanbul
THAILAND: Bangkok
SPAIN: Barcelona