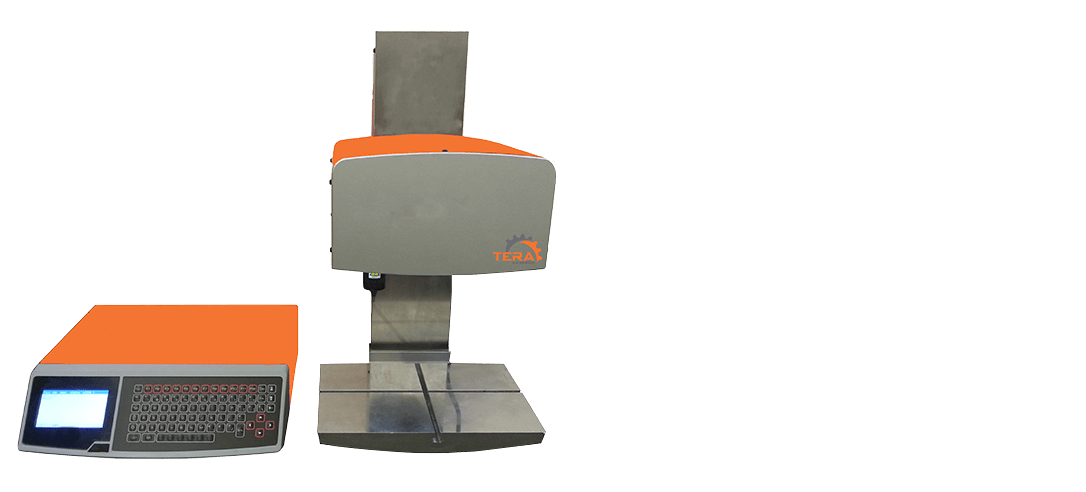 AUTOMATIC MARKING MACHINE FOR INGOT SERIALIZATION AND LOGO PRINTING
AUTOMATIC MARKING MACHINE FOR CUSTOMIZED SERIALIZATION
One single machine with a very compact size lets you apply logos, serial numbers or customized texts on metal surfaces thanks to its column-mounted marking tool with electromagnetic micro-percussion marking stylus.
The T-Numbering™ marking system does not engrave, but it performs micro markings; therefore, the metal is not removed, but just flattened.
The main advantage of this machine is the absence of metal loss.
This innovative solution, which represents an alternative to traditional presses, allows marking different types of images, fonts or numbers on precious metal ingots and other types of surfaces, without needing to buy different stamps or bulky machines.
It is recommended to opt for a stand-alone T-Numbering™ in the case of small-sized or small to medium-sized production.
CRITICAL ISSUES AND DISADVANTAGES OF THE TRADITIONAL SYSTEM
No HMI interface, work is only manual and not consistent
It is only possible to mark texts or numbers, but not images
Only stand-alone machines
THE ADVANTAGES OF AN AUTOMATED SOLUTION
Straightforward user interface
No metal loss
It can easily be integrated
WHICH MARKING AREA DO YOU WANT TO SERIALIZE?
T-Numbering™ Standard

Marking area: 160x100 mm
Production speed: 5 digits per second

Production capacity varies according to:

Size and shape of the object;
Material to mark;
Text to mark;
Depth of marking;
Chosen font.

T-Numbering™ Large

Marking area: 300x150 mm
Production speed: 5 digits per second

Production capacity varies according to:

Size and shape of the object;
Material to mark;
Text to mark;
Depth of marking;
Chosen font.
THE T-NUMBERING™ MARKING MACHINE WORK?
The electromagnetic micro-percussion T-Numbering™ machine marks both precious metal ingots and objects made with varying material, shape and surface, without removing any material. Moreover, the whole process can be customized according to the customer's specific needs.
ENDLESS MARKING POSSIBILITIES
T-Numbering™ is an accurate and extremely precise column-mounted marking machine which can easily mark codes, numbers, letters, images, etc. on several types of objects and surfaces made of metal and plastic.
THE T-SERIALIZING™ SOFTWARE
T-Serializing™ is the software developed by Tera Automation which, if fitted to the T-Numbering™ machine, allows serializing a set number of both casting and minting ingots with different designs. By setting the parameters on the touch screen, operators can easily choose the marking process which best suits the products.
AUTOMATION FOR INGOT SERIALIZATION
Each Tera Automation machine can be conceived as part of a modular line which can be combined according to the company's needs and facility space. Each machine can be fitted to existing machines and a full line can be developed over time.
T-Numbering™ is an automated machine which can be combined with other machines, according to each operator's specific needs.
YOU MAY ALSO BE INTERESTED IN
FLAWLESS MARKING
ON ANY SURFACE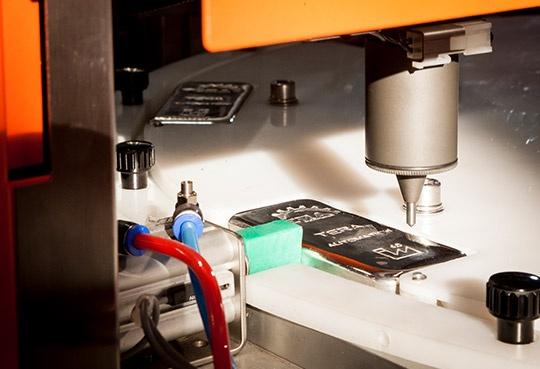 Thanks to the Auto-Sensing Technology, the T-Numbering™ machine can automatically adapt to several shapes and surface conditions, whether they are flat, concave, convex, circular or made with raw material. This device is especially useful in case of ingots which do not have a perfectly smooth surface, in order to avoid ending up with different pressure marks according to the ingot thickness.
Thanks to Auto-Sensing, our T-Numbering™ machine can be used to mark any type of ingot, whether it is manufactured the traditional way or with our automated induction tunnel furnaces.
FULL, IMMEDIATE SUPPORT WITHOUT BORDERS
A support service can be deemed efficient, only if it does not require halting production for long periods of time, wherever the customers might be in the world.
Our support team can be reached via direct call, remotely or with maintenance contracts. That means saving time and money.
Constant availability of spare parts
Our support service is particularly efficient, because we provide spare parts which are manufactured even with our own CNC machine, our warehouse is fully stocked with the most important spare parts and we guarantee a fast delivery.
Along with the T-Numbering™ machine, we provide an original Tera Automation spare parts package, so as to ensure that the machine always operates at full potential. Keeping a stock of the main spare parts is absolutely essential to guarantee production continuity and carry out simple maintenance tasks in an effective and timely manner. Our support team will create the spare parts package most suitable for your needs.
Consumables – Marking stylus/marking machine tip
TERA AUTOMATION S.R.L.
Via Romena, 7/9 - Loc. Porrena
52014 Poppi (AR) - Italy
Phone: +39 0575536625
Fax: +39 0575539851
E-mail: tera@tera-automation.com
TERA WORLDWIDE
USA: New York
INDIA: Mumbai
TURKEY: Istanbul
THAILAND: Bangkok
SPAIN: Barcelona